Okay, so the death of YouTube has been prophetized more than the antichrist and alien disclosure put together and it's about as likely to happen as those things. However if there is something that could kill YouTube it's this.
YouTube has started muting videos that use unauthorized copyrighted music (and that pretty much means all user-created videos.)
Yeah, so the crackdown has started. For an example see Kiss from a Rose. The audio disappears and a note "saying This video contains an audio track that has not been authorised by all copyright holders" appears. It's not known if this is being done manually by moderators or if they are using automatic recognition of music. It would seem that it'äs affecting more popular videos at the moment with less popular video of kiss from a rose are still untouched.
If this is ever truly enforced it's going to be bad. Imagine if all videos with Yakety Sax were gone. Even some rather popular video producers have been using songs rather liberally. All in all strick enforcement would silence a very big part of YouTube.
That's why I don't really think it is going to happen. Probably it's more of a scare tactic or doing the bare minimum to comply witht he demands of Lawyers. But I could be wrong.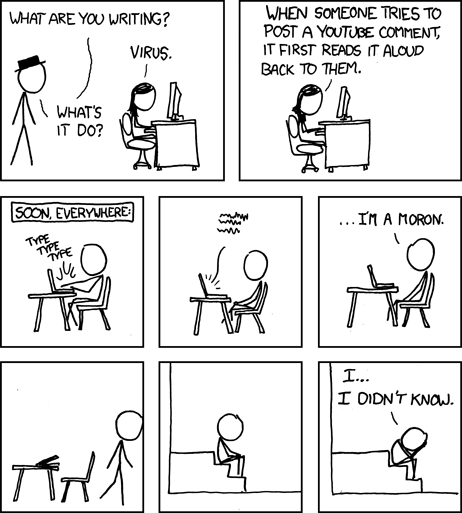 Some xkcd to break up the text…
BUT WHAT DOES IT MEAN?
If it happens and YouTube goes silent then there are two possible outcomes:
1) People leave for some other video sharing site that they will inhabit until Lawyers strike that one down as well.
2) There is a fundamental change in the way user generated content works. With emphasis on the "user" part.
Now if you're 13 and living with your mom you really can't go on recording a symphony orchestra for your lightsaber video. That doesn't mean you're not going to do it. When the average PC was too slow to edit video those kids would have just waved around a fluorecent light and played the song from a boombox. One video site not accepting Leia's theme is not going to stop them from fulfilling their Skywalker fantasies.
But what is there for the kid to do? Well, you could go to another site but YouTube is so big all your friends are propably there as well. So the next solution is to get around the problem somehow. You might use a panpipe version of the Imperial March and hope the system doesn't recognise it.
..Or then somebody will come and solve the problem for them. MySpace layouts are a huge industry even though that started basicly from bad coding that allowed you to mess with the way your page looks like. However most people really don't have the skill to do anything with the satanic spaghetti that was MySpace code – however there were a lot of people who did. Then these people started offering stuff for the masses and some of them became very rich. Now if online video hits the speedbump of copyright enforcement there's something to be learned from this.
There are musicans aplenty and a lot of them just want their music to be heard. Now if you connect these guys to the guys who want some sound in their videos then both will win. Then have them meet the guy who likes doing lightsaber videos but is too shy to be on front of the camera. That would already be a film crew. Collaborating to create true user generated content – not users ripping existing stuff.
Now if we just had a website for collaborating on video productions we'd be very interested in seeing where this goes…